Yamaha R-S202BL Stereo Receiver with Bluetooth (Black)
SKU: sil70767
Yamaha Stereo Receiver | 2 Channel x 100W
Yamaha, the most trusted brand in home audio, adds Bluetooth® compatibility in this Hi-Fi receiver for easy wireless setup to streaming music services and music on smartphones or other devices. Enjoy the connectivity and the outstanding and legendary quality of Yamaha natural sound.
Advanced circuitry design
Bluetooth® compatibility for popular streaming music services
40 station FM/AM preset tuning
Brushed aluminum finish and simplistic design
Speaker selector for two systems
Simple remote control layout
Headphone terminal

High-Power Output
Never peak. The R-S202, with two channels of 100 W high-power output* that are above its class, has a high-quality sound design that minimizes the length of signal routes and optimizes the circuit layout. Positioning the power transformer near the amp circuit reduces power loss while improving peak power supply capacity to enable high volume output. The signal ground and power supply ground connect at one point, eliminating mutual interference to achieve a higher S/N ratio. The result is sound clarity stripped of noise and other signals.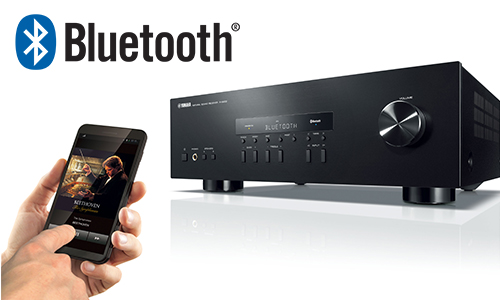 Bluetooth®
 

to Streaming Music Services

Connect wirelessly. The R-S202 provides Bluetooth functionality for enjoying streaming music from smart phones and other devices, selecting songs and hearing them with the legendary quality of Yamaha sound.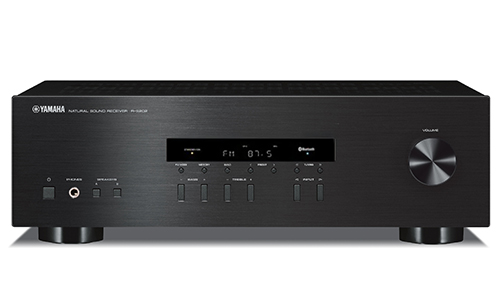 40 Station AM/FM Preset Tuning
All the stations. Allow your client to register up to 40 favorite FM and AM stations, then conveniently select from either the receiver or the remote control. Auto preset lets them automatically search for and register FM stations. Frequencies appear on the display, so when they want to listen to a new station, they can quickly and easily dial it in.
Simple and Sophisticated Design
Less is more. The R-S202 inherits the simple, sophisticated design style for which Yamaha Hi-Fi audio is famous. With an elegant brushed finish, it harmonizes beautifully with other audio equipment. The Yamaha commitment to beauty and sophistication are demonstrated in the finish and ease of control, giving the user a premium audio experience.
Speaker Selector
Check one, two. Equipped with speaker terminals for two systems, this receiver lets you connect two sets of speakers. The speaker selector makes it easy to switch between outputs, allowing you to deliver sound from one speaker system (A or B) or both (A+B). Try the Yamaha NS-6490 bookshelf speakers and the YST-SW216 powered subwoofer with the R-S202 for an ultimate stereo system.