Logitech® Harmony Pro Advanced Remote, Hub and App LOGI-HARMONY-PRO
Logitech® Harmony Pro Advanced Remote, Hub and App
The Logitech Harmony Pro provides an elegant and easy to use remote your clients will love. Only available to professional integrators, this remote offers multi-zone audio control, thermostat control, home entertainment and smart device control, and so much more.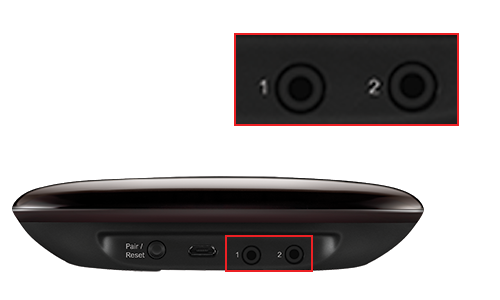 Two 2.5mm IR Ports
Two assignable 2.5mm IR ports let your client use the included two IR mini-blasters in addition to the blasters in the top of the hub and the remote.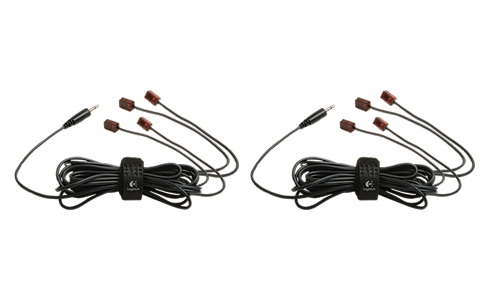 Two 4-head Precision IR Emitters
In addition to the two IR mini-blasters, Harmony Pro includes two 4-head precision IR emitters plus rubber boots to cover the emitters.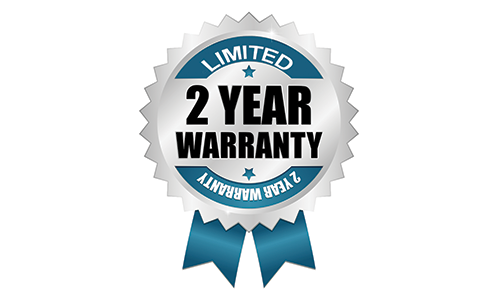 Two-Year Warranty
Harmony Pro products provide a two-year warranty vs. retail products which only carry a one-year non-transferable warranty.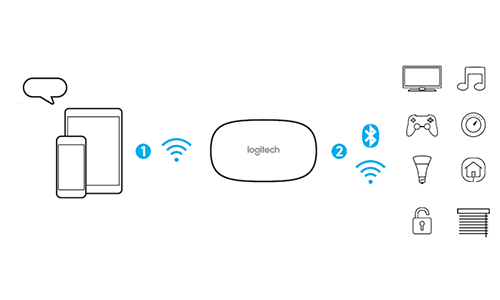 Favorite Channels
Image-based icons simplify getting to favorite channels, Sonos playlists, or Roku apps with just the touch of a button.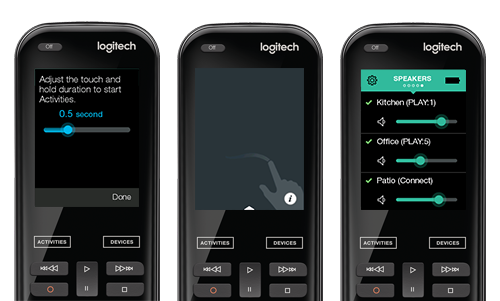 Scrollable Touchscreen
An advanced touchscreen with vibration feedback provides an elevated experience similar to a smartphone.
Home Control Buttons
These buttons are a user favorite, providing physical buttons to turn on/off and dim/brighten lighting and outlet based products.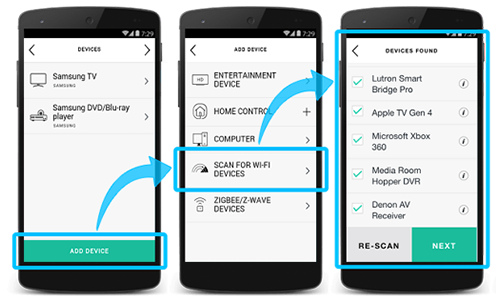 Simple & Efficient Mobile-based Programming
Easy-to-learn programming that averages less than 30 minutes on an iOS or Android device. Add voice, Sonos, etc. in about 5 minutes each.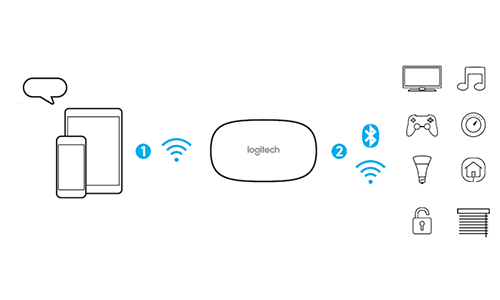 IR, IP, and Bluetooth Control of Wireless Audio, Lighting, and Thermostat Products, plus Voice Integration
End users can manage entertainment devices as well as lighting, audio, and thermostat products. Also compatible with Amazon Alexa and Google Assistant for an easy to control smart home.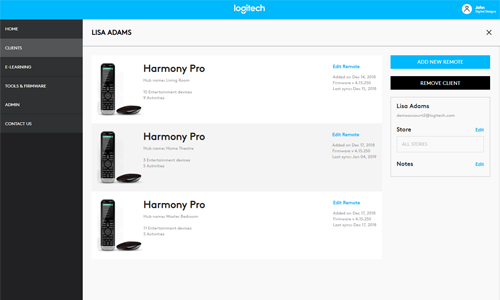 Off-site Management
Remotely manage Harmony clients from the Logitech Pro Portal. Installers can update programming remotely without the added expense of a truck roll.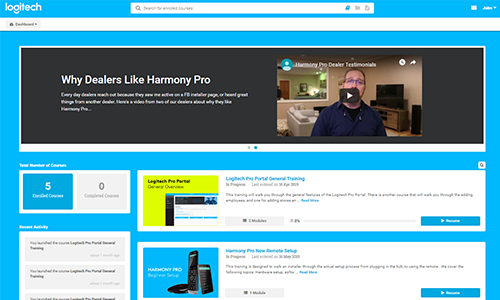 Online Learning
Harmony offers a best-in-class online learning environment with interactive trainings designed to quickly teach installers programming best practices.