Focal F300ICW6 6.5" IN CEILING SPEAKER
Dynamic overhead audio from Focal
Focal's popular line of flax speakers has been well-received by our customers. Now Focal has woven this successful design into a high-performance in-ceiling speaker. The 300 ICW 8 is an excellent choice for a custom-installed music system. Or use a pair for the Dolby Atmos® channels of your Focal Dome Flax home theater system.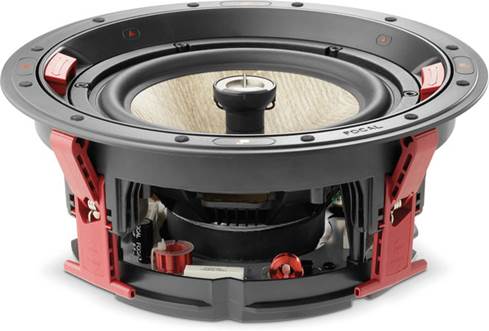 Focal uses flax fibers to create a very rigid, lightweight cone for the 300 ICW 8 in-ceiling speaker.
Focal's flax cone: stiff as a board, light as a feather
The 300 ICW 8's 8" woofer is made from an exclusive flax cone material. A layer of hollow, ultra-lightweight flax fibers is sandwiched between two thin layers of glass. These extraordinarily light-yet-rigid woofers deliver rich, uncolored midrange and tight, natural bass.
This speaker's other driver is also unusual: a 1" inverted dome tweeter crafted from magnesium and aluminum. Its fast, accurate response allows detailed, dynamic highs that extend all the way up to 28,000 Hz.
Adaptable to your décor
The 300 ICW 8 includes two grilles — one square and one round — that you can paint to match your room's décor. Plus, they're magnetic, so attaching them is a breeze.
Product highlights:
ideal for an in-ceiling music system or overhead surround effects in a home theater system
1" aluminum/magnesium inverted dome tweeter

tweeter pivots 360° to direct high frequencies toward you
three-position tweeter level control cuts or boosts high-frequency output to ideally suit your room's acoustics

8" woven flax fiber woofer with rubber surround
frequency response: 48-28,000 Hz (±3 dB)
recommended amplifier power: 25-150 watts
sensitivity: 90 dB
impedance: 8 ohms
includes square and round paintable magnetic grilles
speaker cutout diameter: 10-7/16"
overall diameter: 11-13/16"
mounting depth: 4-3/4"
weight: 7.1 lbs.
designed and constructed in France