BenQ LK970 Laser 4K Ultra HD 5,000 Lumen Projector
BenQ LK970 Laser 4K Ultra HD 5,000 Lumen Projector
This 4K laser-core projector is ideal for entertainment simulators and gallery exhibitions. With 5000 ANSI-lumen brightness, its supreme picture quality reproduces true-to-life images for an immersive audience experience. A 20,000 hour BlueCore laser engine provides significantly improved color performance through a dual color wheel system, support for 360° and portrait installation, and 24/7 operation for expanded application opportunities. Flexible installation features such as H/V lens shift, big zoom, and more accommodate the diverse needs of museums, entertainment venues and other unique enterprise spaces.
HDBaseT Notice
-
BenQ's P- and L-series projectors have built-in HDBaseT receivers.

 
Home Theater Calibration Notice
-
While this is a ProAV projector, it can be used in high ambient light home theater settings. We do recommend professional calibration if used in a home theater.
8.3 Million Pixels of True 4K UHD
This 4K projector achieves the Consumer Technology Association's 4K Ultra HD specification at a resolution of 2716 x 1528 (4.15 million) micromirrors. Via a dual-position optual actuator, it also uses XPR fast-switching technology with state-of-the-art image processing to double the resolution to 8.3 million distinct pixels per frame—which is four times the resolution of full 1080p HD. It also reduces the blur between pixels for supreme clarity and crisp image details.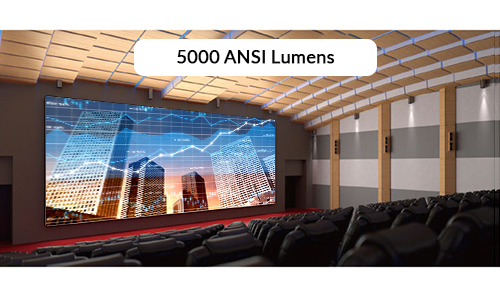 Flexible, Professional Projection
No matter the location, this projector's 5000 ANSI lumens will always give your customers the best clarity under the brightest lights! Help them stay in control and deliver perfect presentations in any professional setting.

DLP Delivers Superb Image Detail and Color Integrity
To avoid inherent alignment issues caused by multiple panels, the LK970 preserves color and image integrity with single DMD DLP technology. Generating razor-sharp images and pure colors in immaculate 4K clarity, LK970 eliminates blurriness, shadowing, and interference patterns.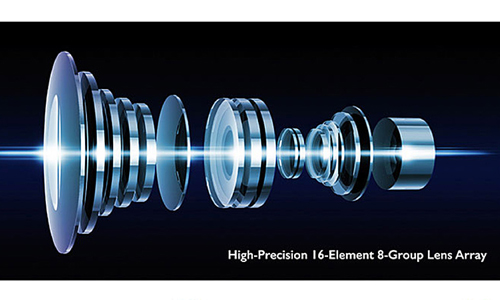 High-Precision 16-Element 8-Group Lens Array
For guaranteed stable image quality, LK970's 4K-optimized lens system uses a super high-resolution 16-element lens array structured into 8 groups. Its lenses are made from the highest-grade all-glass substrates, with metal barrel and cell framework. This system delivers greater light penetration that guarantees long-lasting 4K intensity, breathtaking clarity, sharpness, and color performance across the entire screen.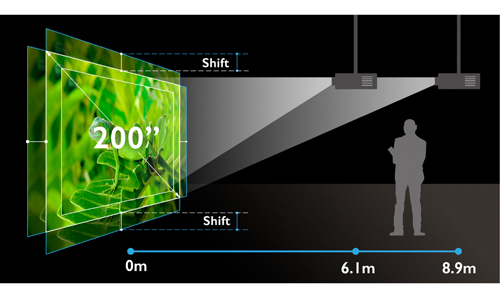 Wide Zoom, Focus, Lens Shift and Memory
The LK970's wide zoom range, focus, and horizontal/vertical lens shift systems can perfectly align images in any challenging venue. Lens shift can move projected images up and down by 60% of screen height or left and right by 25% of screen width without sacrificing image quality. The 1.5X Big Zoom feature offers a wide range of throw distances to significantly increase installation flexibility for diverse mounting options in various public display scenarios.
Harness The Power of Lasers
The BlueCore laser source uses dual color wheels to significantly improve white balance and overall brightness. In addition to strikingly clear, bright whites, this projector's pure RGBY colors are achieved by eliminating the white segment of a conventional color wheel, so it produces an ideal mixture of red, green, blue and yellow color segments on its own. Through this optimization of RGBY colors, this premium laser projector runs the gamut of precise color ranges.

Superior Dustproofing for Severe Conditions
BenQ's LK970 4K Laser Projector is designed with sealed laser modules and enclosed light engines to protect the DMD chip, color wheel sensor, laser bank, and other optical components. This lock-and-key design hermetically seals the engine from dust to prolong projector lifespan.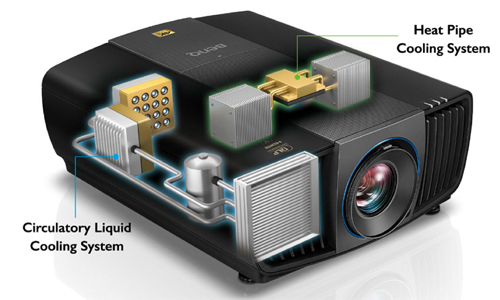 Innovative Cooling Systems
The LK970 employs two advanced cooling systems to ensure optimal thermal conduction during operation. Its circulatory liquid cooling system protects the laser light bank and DLP engine even after constant operation in ambient temperatures up to 40°C (104°F), while the heat pipe cooling system cools the DMD chip to effectively produce a comfortable sound with improved reliability.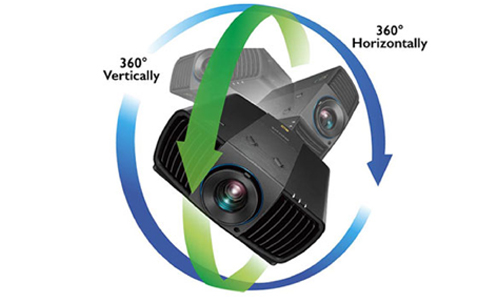 Projection From Any Angle
BlueCore laser technology guarantees reliable projection from any angle. Dynamic installation options such as 360° rotation and portrait applications enable seamless projection onto ceilings, walls, floors or angled signage.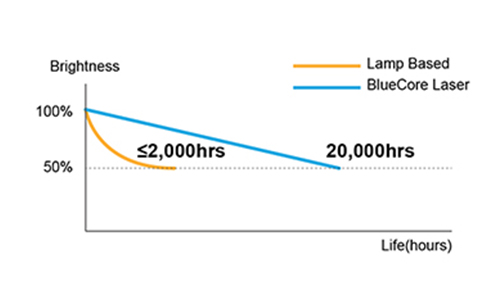 20,000 Hours of Performance
BlueCore Laser Projectors are guaranteed for 20,000 hours of superior image quality and brightness performance. The laser light source resists color decay over time, and offers multiple blending projections without risking that adjacent projectors might generate different levels of brightness.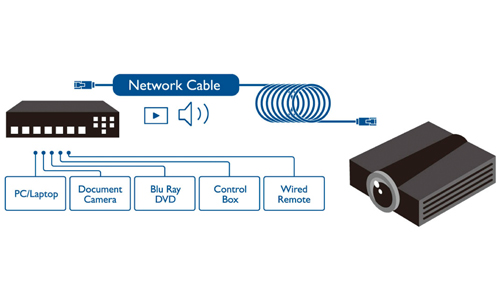 HDBaseT for Uncompressed Transmission up to 100m
Groundbreaking HDBaseT connectivity combines video, audio and device control signals from multiple sources – including PCs, laptops, document cameras, Blu-rays, and DVDs – onto a single CAT5 cable; this offers seamless long-distance transmissions up to 100 meters.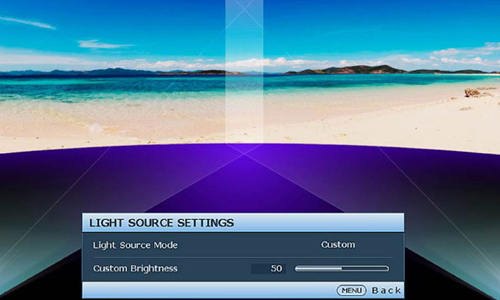 Consistent Brightness Blending
This projector's unique Custom Light Mode modulates light power output from 20% to 100% so each projected image is optimized for a variety of ambient lighting situations. This is especially useful for blending consistent brightness across multiple projections.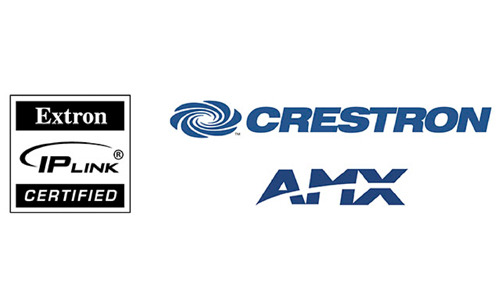 Network/Web Control
The LK970 is compatible with Creston, AMX, and Extron control systems for convenient system integration with various third-party components, reducing the cost to centrally maintain multiple projectors.