Parasound HINT6-SL Halo Series HINT 6 Integrated Amp with Phono Preamp | 240W
Parasound Halo Series HINT 6 Integrated Amp with Phono Preamp
Halo is Parasound's premier line with a reputation for going head-to-head with the most expensive equipment on the market, while costing a fraction of the price. Halo has earned honors and awards that are unmatched. The HINT 6 is Parasound 's new, high performance, value-engineered, Integrated Amplifier nicknamed HINT. The HINT 6 succeeds the original Halo Integrated, an immensely popular product acclaimed by more than two dozen reviewers who enthused: "Sounds downright sumptuous", "Uncompromising 'best sound for the dollar' value", "Superlative and affordable", "Its performance blew me away". In fact, Stereophile named the Halo Integrated a Class A Recommended Component in a field of fourteen integrated amplifiers with retail prices averaging over five times higher.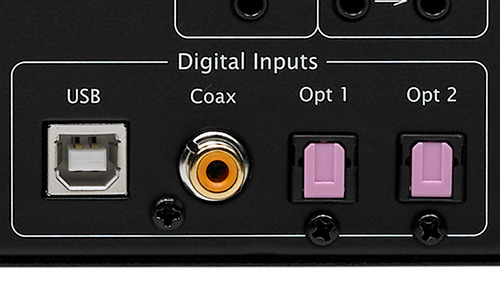 High Resolution Digital to Analog Converter
The HINT 6's built-in 32 Bit DAC (Digital to Analog Converter) uses a ultra-high resolution 384kHz ESS Sabre32® Reference DAC IC. The asynchronous USB input supports PCM up to 384kHz/32-bit and DSD256. The 2 optical and 1 coax inputs can decode high resolution PCM audio up to 192kHz/24-bit. The P 6's DAC is superior to the DACs in most digital source components. These sources will sound better if you connect one of their digital outputs to the P 6's DAC instead of connecting their analog output jacks.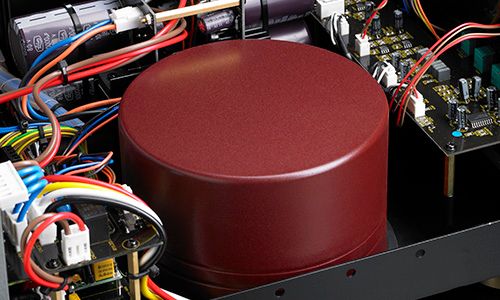 Toroid Power Transformer & Powerful Class A/AB Amp
The heart of the HINT 6's power supply is a massive 1.1 kVA toroid power transformer. It is custom designed for well-contained radiated hum, high efficiency, and high power. The transformer has independent secondary windings and this provides more than ample voltage to each channel's power supply under the most strenuous operating conditions. Separate windings for each channel improves stereo imaging by reducing interchannel crosstalk and allows each channel to deliver up to 270 watts per channel at the same time.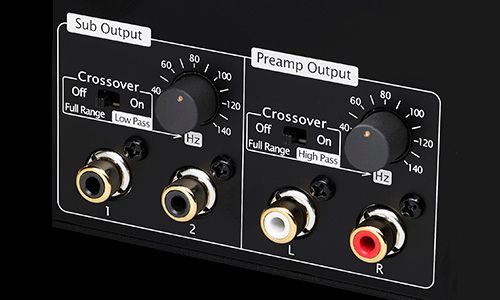 High & Low Pass Crossovers
An especially useful feature of the HINT 6 its innovative high and low pass crossover network. This provides analog bass management for easy integration of subwoofers and stereo speakers. With the HINT 6 crossover network your subwoofer(s) can easily be shared by two channel and multi-channel playback. This works in tandem with the home theater bypass input for a seamless transition whenever you select two channel or multi-channel operation.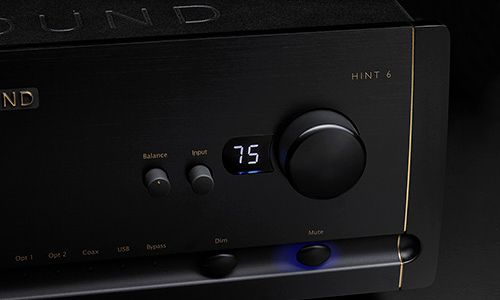 Front Panel Volume Display
The volume control features a new, dimmable - display showing the exact volume setting. Other features include: user defined default turn on volume, and favorite volume setting. The solid machined aluminum volume control knob, polished on the front and textured around the perimeter, rotates on ball-bearings giving it rocksolid and silky smooth operation.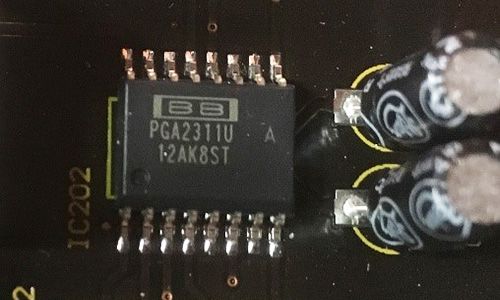 Analog Volume Control by Burr-Brown
The Hint 6 uses a Burr-Brown high-performance, electronically-controlled analog volume control IC with high dynamic range. It functions as an analog switched resistor ladder array so analog audio is never converted to digital as with most IC volume controls. Parasound's engineers bypassed the onboard gain stage and instead used an external, high-performance operational amplifier with a dedicated power supply. This approach achieves the lowest noise and the lowest distortion resulting in superior sound quality.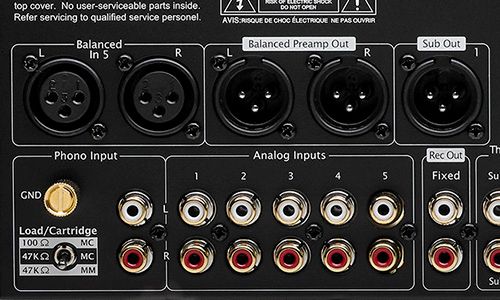 Phono Input & Balanced XLR Inputs/Ou
The HINT 6 is equipped with a high-quality phono stage with a three-position load/gain selector switch making it compatible with all cartridge types. Additional analog connections include balanced XLR inputs and outputs. The HINT 6 also provides one XLR connector and two RCA jacks for one or more subwoofers.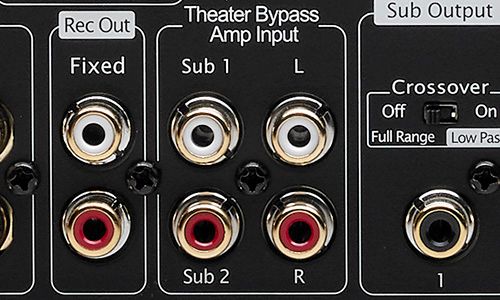 Home Theater Byass Input
The HINT 6's Bypass/Amp input makes it suitable for both the highest quality stereo reproduction and powering the L and R channels in a surround sound system. This unique feature benefits your system in several ways. It will improve the performance of your left and right speakers in a surround sound system because the power amp built into the HINT 6 is superior to any surround sound receiver's amp. This will also relieve your AV receiver of the burden of driving the left and right speakers so that more power is available to drive the center and surround channels.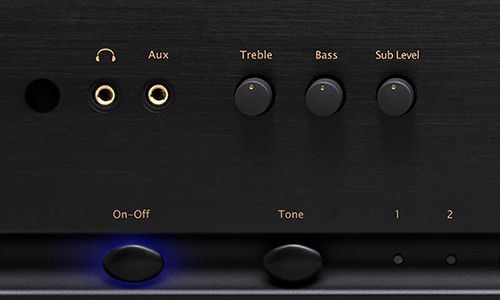 Subwoofer Level, Tone Controls & Headphone Amp
The subwoofer level control allows fine-tuning from the front panel. Bass and Treble Control Knobs offer precision adjustment of tonal balance. A front panel and remote control button provide an easy way to compeltely bypass the tone control settings. The HINT 6 is equipped with a dedicated high quality current-feedback headphone amplifier based on the top-grade Texas Instruments TPA6120A.