Parasound A21P-BL Halo Series A 21+ Stereo Power Amplifier | 500W x 2 Channels
Parasound Halo Series A 21+ Stereo Power Amplifier
Halo is Parasound's premier line with a reputation for going head-to-head with the most expensive equipment on the market, while costing a fraction of the price. Halo has earned honors and awards that are unmatched. The Halo A 21+ is an ultra-high performance Class A/AB stereo power amplifier. We are very proud of this latest achievement of Parasound engineering in concert with legendary audio equipment designer John Curl. John Curl has been designing for Parasound since 1989. He was already a legend in the '70s for designing and building mixing consoles for The Grateful Dead and Jefferson Airplane. He has designed some of the most iconic and highest regarded audio bands in the world. Curl's inspired designs have earned Parasound world-wide acclaim and our stunning A 21+ builds on this storied heritage.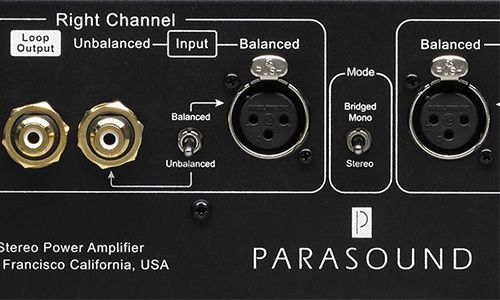 Balanced XLR Inputs
Recording and broadcast studios use balanced connections exclusively because of their inherent ability to reject noise and hum, thus assuring the best sound. Certain high quality preamplifiers and surround controllers built for residential use utilize balanced connections with XLR jacks for the same reasons. All Parasound Halo series power amplifiers have balanced inputs with XLR jacks so you can take full advantage of their inherent noise reduction capability.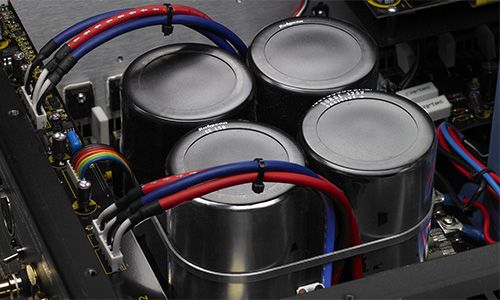 Large Filter Capacitors for Output Stage
To unleash greater dynamics, the A 21+ uses four premium quality 27,000uF Rubycon electrolytic filter capacitors, chosen for their low Equivalent Series Resistance (ESR), dielectric absorption and resistance to high temperature. In addition, these filter capacitors are bypassed with smaller polypropylene capacitors to reduce AC ripple in the DC supply and to further eliminate noise and interference that is generated in AC power lines from computers and other appliances in the home.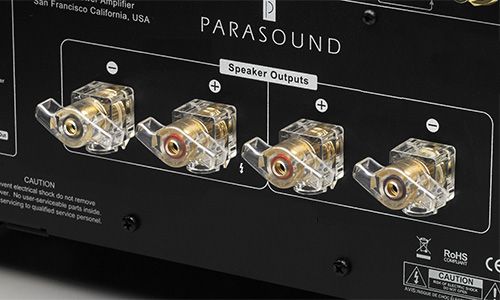 Custom Heavy Duty Speaker Binding Posts
Every part within the A 21+ is carefully chosen for its accuracy, sound quality and long life. Its speaker terminals are new, developed in collaboration with CHK. Their ample size and wide spacing accommodate even the largest gauge speaker wire or spade connectors. High quality 24 K gold-plating on the speaker terminals, input connectors and internal audio signal connections assure sound quality that won't be compromised by corrosion.
Toroid Transformer & Powerful Class A/AB Amp
The heart of the A 21+ power supply is a massive 1.3 kVA toroid power transformer. It is custom designed for well-contained radiated hum, high efficiency, and high power. The transformer has independent secondary windings and this provides more than ample voltage to each channel's power supply under the most strenuous operating conditions. Separate windings for each channel improves stereo imaging by reducing interchannel crosstalk and allows each channel to deliver up to 500 watts per channel at the same time.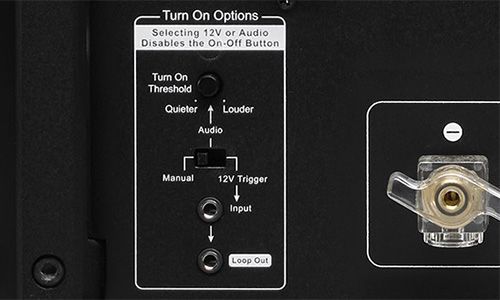 Turn On Options
The setting of the rear panel Turn On Options switch determines how the amplifier turns on and off. There are three options for this switch. 1) Manually by the front panel power button. 2) By connecting a 12V trigger. 3) Automatically when an audio signal is detected at the L or R Input jacks.