Autel Robotics EVO II Plus On The Go Bundle 600003019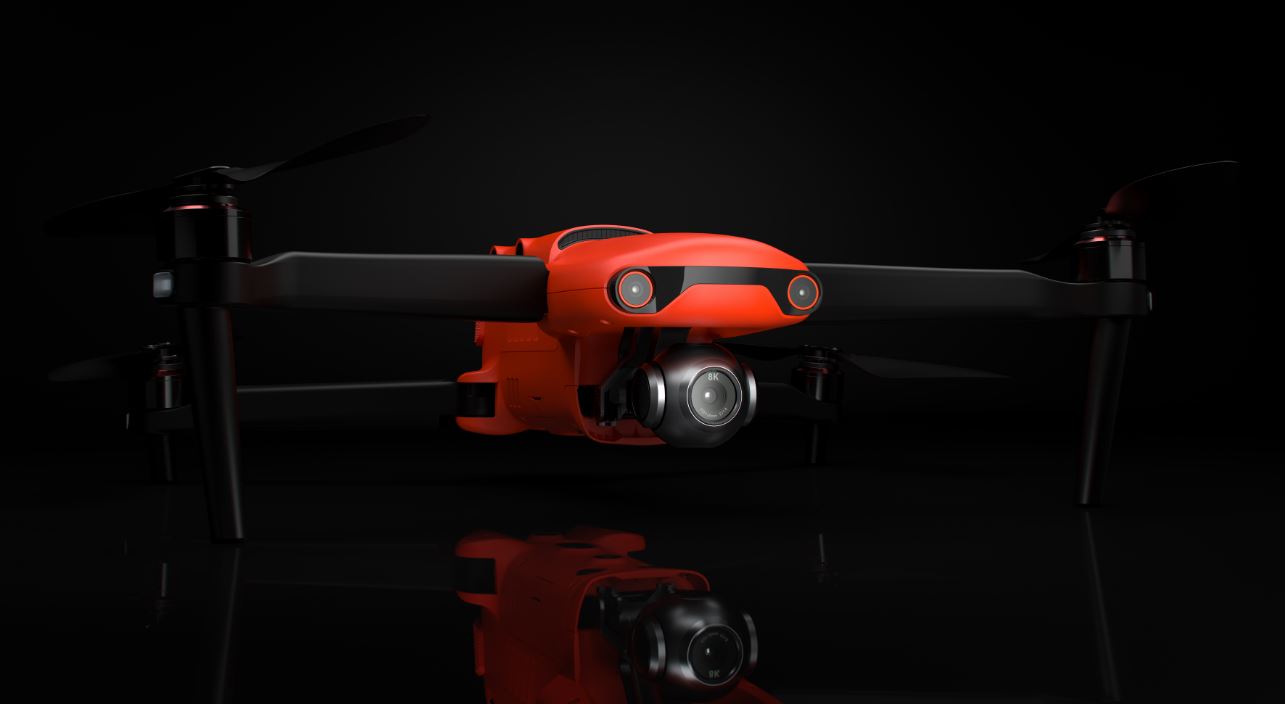 On The Go Bundle includes:
Autel Robotics EVO II 8K Drone On The Go Bundle
Remote Controller
Shoulder Bag
2 x Flight Battery
Micro-USB to Micro-USB Remote Cable
Micro-USB to USB Type-C Remote Cable
Battery Charger
5 x Extra Pair of Propellers
Limited 1-Year Warranty
Supporting creators, professionals, enthusiasts, contractors, and first responders, EVO II is the tool that works as hard as you do. Designed with efficiency in mind, EVO II features three interchangeable cameras that can be swapped out in minutes by the user. Complete with an array of Intelligent Flight modes and the most comprehensive, userfriendly obstacle avoidance system ever developed, you are able to be fully immersed within any activity while capturing every second of it.
Life in 33 Million Pixels
Autel EVO II 8k records in resolutions up to 7680x4320. With 16 times more pixels compared to HD and 4 times as many pixels compared to 4k, 8k video redefine image detail. The high resolution enables the ability to zoom deep into a scene, crop an image or video to 4k without any loss in quality and pushing color further than ever before.
PERFORMANCE
A tool that works as hard as you do. Designed with portability in mind, EVO 2 is built with quality craftsmanship. Each component of EVO 2 goes through multiple tests before assembly and every aircraft must pass a rigorous flight test before it leaves the factory
Boasts flight times up to 40 minutes with a range of 5.5 miles
2.4Ghz antennas for up to a 9km range and better reception in urban areas
Captures unmatched 8K video and dynamic 48MP stills
12 image sensors create a 3D world for omnidirectional obstacle avoidance
Built-in 3.3-inch OLED display allows pilots the freedom to fly without a mobile device
Top speed of 45mph (72kph) allowing to go farther, faster
REMOTE CONTROLLER - NO NEED FOR PHONE
Included with EVO 2 is a smart controller featuring a built-in 3.3-inch OLED display, eliminating the need for a mobile device. With a four hour battery life and an ergonomic, compact design, pilots can easily pack and fly on the go.
CAMERA - 8K VIDEO / 48MP PHOTOS
Capture striking detail never seen before in an aircraft of this size with the first 8K drone camera on the planet. EVO II features unmatched 8K video resolution up to 25fps and dynamic 48MP stills. Partnering with Sony, the Autel EVO II's 48 megapixel sensor is superior to any aerial camera by providing sharper images, greater detail, and richer color.
INTELLIGENT FLIGHT MODES
Featuring an array of Intelligent Flight modes, EVO 2 also includes the most comprehensive and user-friendly obstacle avoidance system ever developed. Complete with 12 image sensors, EVO 2 allows you to be fully immersed within any activity while capturing every second of it.
Dual-core powered object detection recognizes up to 64 subjects at once including people, vehicles, and animals
12 high performance optical image sensors create an omnidirectional 3D world for EVO 2 to navigate through
Follow subjects autonomously around obstacles at high speeds using Autel's patented Dynamic Track 2.0
Gesture Control allows the pilot to command the aircraft hands-free and enable video recording, photo capture, and Intelligent Flight modes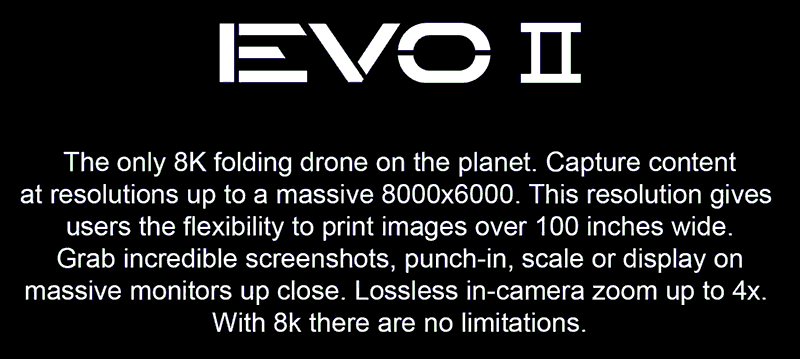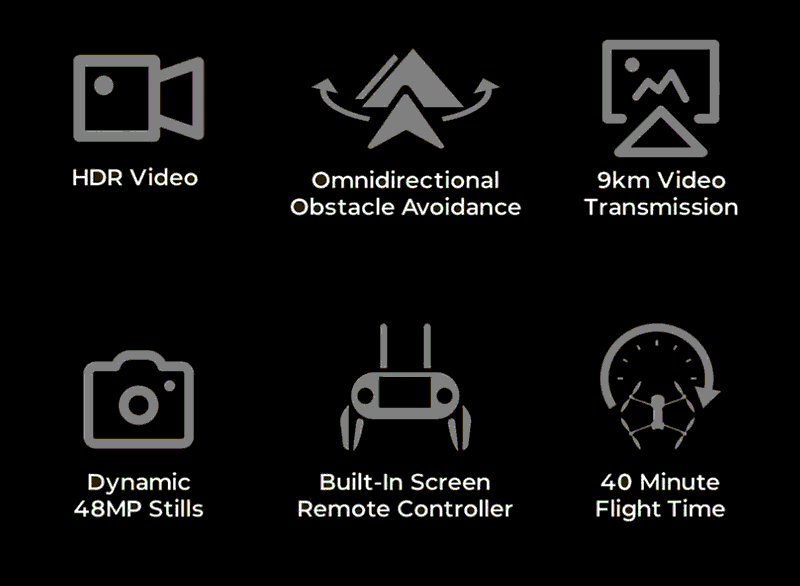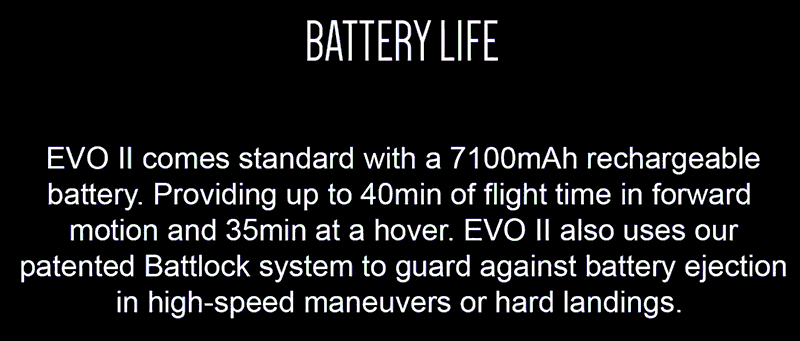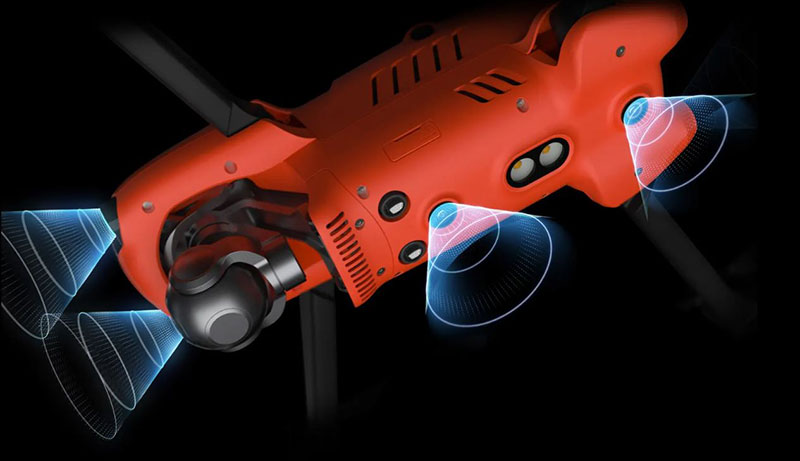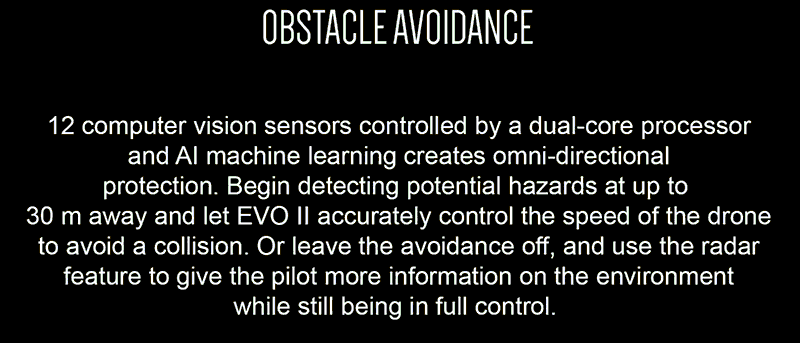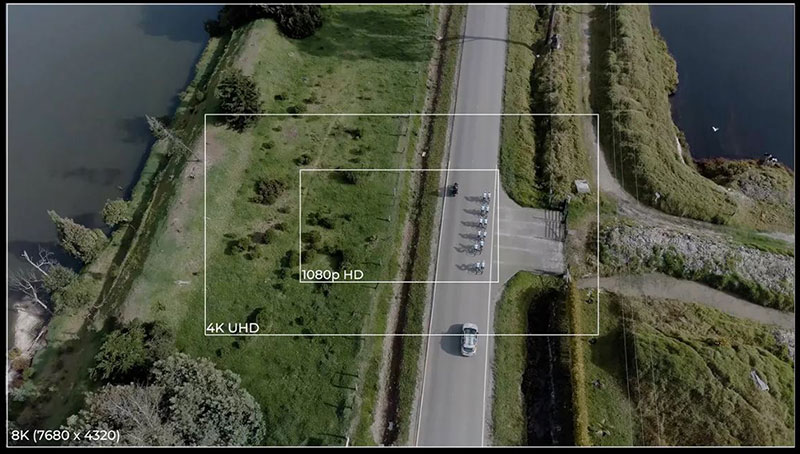 360° Obstacle Avoidance
Equipped with 19 groups of sensors including 12 visual sensors, the main camera, ultrasound, IMUs and other sensors enable building of three-dimensional maps and path planning in real time.
Autel Robotics EVO II 8K Drone On The Go Bundle
Remote Controller
Shoulder Bag
2 x Flight Battery
Micro-USB to Micro-USB Remote Cable
Micro-USB to USB Type-C Remote Cable
Battery Charger
5 x Extra Pair of Propellers
Limited 1-Year Warranty